"I think it is a racist party, trying to be respectable."
The UK Independence Party (UKIP) is the 'new kid on the block' in British politics. They have crafted an identity as the anti-establishment party and are attracting more and more interest.
They are now being seen as a threat to both the Conservatives and Labour, because they are attracting voters disenchanted with the mainstream parties.
Commentators think it is possible that UKIP could take the place of the Liberal Democrats as the new party of protest, and become the third party in British politics.
UKIP was founded in 1993 with the aim of taking Britain out of the European Union (EU). Since 2004, UKIP have enjoyed success at European elections. The party has since broadened its agenda, and currently has 2 MPs.
The UKIP wave is starting to reach the British Asian community. On the one hand, their anti-immigration stance has unnerved British Asians. In addition, some members of UKIP have made remarks considered to be Islamophobic.
On the other hand, British Asians have been becoming prominent members in the party. UKIP are fielding 21 Asian candidates at this election. (You can read about all of the Desi candidates in the General Election here).
DESIblitz has previously reported on the travails of UKIP parliamentary candidate Sergi Singh (who you can read about here).
Sergi Singh recently made headlines when he compared Nigel Farage to Mahatma Gandhi (which you can read about here).
We wanted to find out what ordinary British Asians thought about the party. Did they see themselves as of immigrant-stock and discriminated against by the party?
Or did they see themselves as native Britons, besieged under the influx of immigrants?
Was immigration an important issue for voters at this election? And would they consider voting UKIP?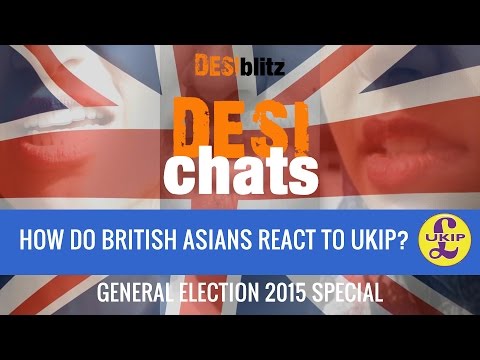 Rightly or wrongly, many British Asians felt that UKIP were a 'racist' party. Raza said: "I do not like UKIP at all. The thing I personally do not like about them, is that they do make very disparaging comments about foreigners, immigrants in particular.
"I think they are racist. He [Farage] claims not to be, but I think they are. I think it is a racist party, trying to be respectable."
Hanifa felt that the party were intolerant in other ways: "I think they're quite homophobic and sexist. I just don't agree with many of their political stances."
The fact that UKIP are standing 21 Asian candidates did not dispel concerns of the people that the party is not racist.
Bashir said: "I don't mean to sound rude but there's a lot of coconuts around that would do anything for a bit of fame and money."
Nazema could not comprehend why Asians would support or vote for UKIP. She said: "I'd like to hear an explanation about why they are doing it."
Zara surmised: "Personally I think that's just UKIP trying to appeal to ethnic minorities. They are trying to show them that 'we're not racist, we have Asians with us'."
Some of those we spoke to drew comparisons between UKIP and previous anti-immigrant incarnations.
Zara said: "In every generation there is going to be a new party that's, I think, essentially racist. Like you had Enoch Powell in the [1960s], the whole River of Blood stuff…Last time it was BNP."
Many of those we spoke to believe that immigration has made and continues to make an important contribution to society.
Invoking the inspiring story of his forebears, Rishi said: "[In the 1970s] they said that immigrants coming into the country would ruin the country.
"Whereas my parents when they came in, they actually added more value to the country, as well as anyone else who has come in since."
For many of the younger voters, particularly students, immigration was not a major concern at this election. However, some of the older voters could understand the concerns of Britons about the issue. Raza said:
"I can understand people's opinion when they are saying perhaps we should limit the amount of immigrants. I can understand that, and I agree with that. I've seen a lot more foreign faces. You hear a lot more foreign voices on the streets."
There are many British Asians who have felt affected by the most recent influx of immigration.
Speaking about his own experience, Vicky said: "A lot of citizens from this country are underpaid. They don't get the jobs. Foreigners from Eastern Europe, they get the jobs because they are cheap labour.
"Some of the jobs that I've applied for, I've done everything that I was required to do. I did my apprenticeships. I did my foundation degree. But they'd rather employ someone a lot cheaper for the longer term."
He added: "I am a tax payer as well. So I haven't benefitted in any way. I have started my own business. And I will be operating abroad."
However, despite this, Vicky would not consider voting for UKIP: "I don't believe in them. And I don't think that they'll make a big difference."
While UKIP have made some efforts to reach out to British Asians, it seems that they will need to do more to convince Desis to support them.
For many British Asians, their own personal principles do not seem to match the values of UKIP.
However, immigration is increasingly becoming an important issue for all Britons, including British Asians.
The General Election will be held on Thursday 7th May 2015.