"I have been a Mardaani [brave lady] since my birth."
Rani Mukerji returns to the screen with the hard-hitting thriller Mardaani, starring as a female cop who discovers the price of India's human trafficking.
The film is a Yash Raj production, and touches upon the harsh reality of human trafficking all over the world.
It is directed by Pradeep Sarkar, but is a departure from Pradeep's usual style of filmmaking.
Rani plays a Senior Inspector named Shivani Shivaji Roy, whose personal interest in the case of a kidnapped teenage girl leads her on a dangerous journey, discovering the dirty secrets of human trafficking.
She embarks on an obsessive hunt for the girl and makes enemies with a ruthless mafia kingpin.
Some of the scenes in the film are so intense that they have been censored. The film has been given an 'A' certificate, classed as a 15 in the UK.
This is a first for Yash Raj Productions, but in a statement released they explained: "Mardaani is a story that needed to be told. Our aim is to reach this message to all, including those innocent girls in the vulnerable age of 12 and above."
The film's star, Rani Mukerji, will be seen back on screen for the first time after her marriage to Aditya Chopra (who has produced the film). Mardaani promises to be a very strong comeback for the versatile actress.
During film promotions, Rani has not shied away from speaking out against the very real problem that the film depicts. She thinks that unless we take some action, it will only get worse.
Rani says: "Parents put their daughters into singing and dancing classes when they are young. They should really join self-defence class from the age of three and not when they are teenagers."
This is a good point, as self-defence classes could help girls protect themselves from being captured by kidnappers. Ideally, girls should be suitably trained before the time they reach their teens, so that they are prepared.
Jisshu Sengupta and Tahir Bhasin are also in the supporting cast, although they have not been seen in much of the promotional material of the film. Jisshu Sengupta, a popular Bengali actor, was last seen in Bollywood in the  film Barfi (2012).
The music of the film has yet to achieve much popularity. It was directed by Salim Merchant and Sulaiman Merchant, and the 'Mardani Anthem' lyrics are sung by Sunidhi Chauhan and Vijay Prakash.
The music has been released under the YRF music label. The 'Mardaani Anthem' is meant to encourage intolerance towards injustice and the abuse of women.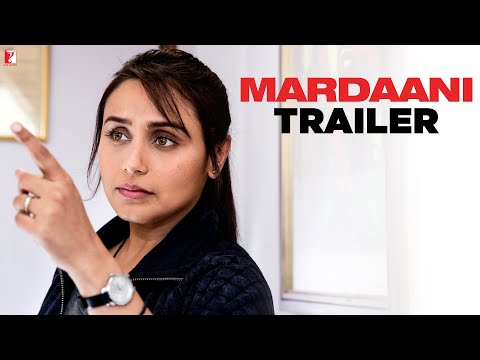 Rani Mukherjee said at the trailer launch: "I have been a Mardaani [brave lady] since my birth. The name has just come but if you look at my previous films, starting from my first film, you will see that I have done such roles."
"Today's time is such that girls need to be independent and defend themselves. I have mentioned before that self-defence should be made compulsory in school curriculum.
"Just like students learn extra-curricular activities, self-defence should also be made a part of the school curriculum."
When visiting Gujarat to promote her film, Rani met the CM of Gujarat, Anandiben Patel. She admirably said that: "The Chief Minister is an actual Mardaani.
"The kind if work she is doing for women is inspiring. She has made so many changes for the women police force and women in general that it's amazing."
The Box Office predictions for the film are generous so far. Despite it being having a strong female lead, which is still uncommon in Bollywood, the film has gained a lot of attention.
The sensitivity of the topic has also generated much interest, especially amongst younger audience.
This film can't help being compared with the gruesome reality of human trafficking that was shown in Hollywood film Taken (2008).
Hollywood's exploration of these issues left any viewer shaken at the horror these girls face, and it is likely that Mardaani will do the same.
India is now faced with an epidemic of child trafficking. Statistics from 2013 stated that one in two missing children was lost forever.
With such atrocities happening under the noses of modern elite India, this film will be a welcome wake-up call to make the mass population aware of the reality of human trafficking.
It is also hoped that Mardaani will help to educate and set positive examples of women for men who don't treat women well.
Parents, carers and children can all leave this film with more awareness of human trafficking, and be hopefully prepared to fight for and protect the vulnerable people of society.
Mardaani promises a hard look at these issues, and expose India's hidden trafficking. The film releases from 22nd August.