"Doctors had warned her that she is not mentally or physically stable."
On Monday 14th May 2018, the 'I Am Not (what is) Broken' project held a wonderfully informative launch event discussing the struggles ethnic and South Asian communities can face when opening up about their mental health.
The presentation was hosted by Javayria Masood and it consisted of spoken word, poetry, and short videos and films of people sharing their experiences with mental health.
There was a lively Q&A with the articulate panel. They included Ayesha Aslam – Director of 'Sakoon Islamic counselling,' Foluke Taylor – Counsellor, independent social worker and a therapy author, Dr Gurpreet Kaur – Clinical psychologist for NHS, and Sanah Ahsan – Trainee clinical psychologist and poet.
Masood is the editor of the 'I Am Not (what is) Broken' project, which seeks to "bring together stories, in written and visual form" from varying diasporic backgrounds.
By engaging so many different speakers and individuals who have experienced mental health at some point during their life, the collection seeks to raise awareness of how a clear understanding of culture and ethnicity can play a part in a person's well-being.
As Masood notes: "Storytelling can also form a part of the healing."
Closed Communities and Cultural Taboos
Without a doubt, discussions around mental health are considered a taboo subject in South Asian and African communities in the UK. Both culture and projections of faith play a key role.
In addition, as Masood points out, there are many different conditions that fall under the umbrella of mental health.
For instance, mental health can refer to depression, anxiety, eating disorders and so much more.
Because mental health is itself such a broad term, understanding some of the specific issues that individuals face can be challenging. Particularly in communities where knowledge of mental health is limited, to begin with.
Dr Gurpreet Kaur spoke about her own family's experience with mental health. As a teenager, her brother started showing worrying signs and was much later diagnosed with psychosis. Kaur says:
"When mental illness came into the family, I can honestly say it was like my life had turned upside down.
"We tried to understand as a family what was going on. On the one hand, we had the community saying to us that he had been spoilt, it was 'jadoo' or 'nazar'. None of which was particularly helpful."
Kaur relates that the family faced many difficulties in understanding what solutions were available and they gained very little support from the community. Now as a medical professional herself, she finds it "distressing" to see that not much has changed since.
Fellow panellist Ayesha Aslam revealed another case of a girl she had once counselled: "She was anorexic, but Ramadan was approaching.
"Doctors had warned her that she is not mentally or physically stable to take on a fast. However, many communities say the only acceptable reasons one doesn't need to fast is if she is on her period or is pregnant.
"Her family thought this would bring shame. Succumbing to her family's pressures the girl did fast only to end up relapsing."
This is just one of many incidents that take place in our communities, luckily this person survived, but many do not.
Sanah Ahsan added: "We sometimes perceive our cultures as our faith or religion."
Many in the audience agreed with Ahsan's statement. Discussions took place about how many communities commonly mix up culture and tradition with religion which can cause problems.
For example, parents and elder generations regularly believe that faith by itself is a viable treatment that can make everything better. Unfortunately, that's not how it works.
As the informative panel explained, a clearer understanding of mental health as a condition that needs to be diagnosed and treated is the only way that individuals can hope to recover in a safe manner.
Racism and Misconceptions
Another reason mental health in our communities exists is owing to the amount of racism that takes place. Even in the year 2018, many ethnic communities still have to deal with it.
Javayria spoke about her childhood and growing up with name calling. In particular, being told she "smells like curry" and being called a "paki".
This may not perhaps sound too bad, but actually many children grow up with taunts such as these. The constant name-calling can really impact a young person's mental health.
Psychotherapist Foluke Taylor states: "The reality of it, racism exists and it plays a big part."
As a parent of five children she says:
"One of the things [my children] taught me fairly early on, what I couldn't protect them from is the mental health stressor that is racism."
Taylor adds that one of the main interests in her work as a mental health professional is the idea of surviving or survival as a means of resistance. By becoming the hero or heroine of their own story, an individual can begin to take back control of their own life.
And it is hearing these stories that can form part of the healing for not only oneself but others too.
Healing and Therapy
One of the key issues discussed during the event was 'self-acceptance' and 'self-responsibility'. As Sana Ashad says: "There is a façade narrative of 'it is not okay to suffer'."
In order for one to heal, one must accept the fact that they are suffering, and realise that it is okay.
Once you can understand and accept your suffering, you will you be able to take the step into therapy and heal yourself. Suffering makes one stronger in the long run. During the event launch presentation Q&A, panellists discuss how individuals can be vulnerable at times and how therapy is the first option when feeling low.
There are many misconceptions that come with counselling and therapy, however. Many believe that it can be quite an expensive route. But there are many free online resources which can help people.
Stigma also surrounds therapy, especially within South Asian and Black circles, presenting yet another challenge.
What is also notable is how there are also very few ethnic therapists. Sanah said: "80% of the therapists are middle-aged, white women."
It can be hard to explain, let alone for a therapist to relate to, about what we as a community go through.
Being able to feel comfortable with the therapist is essential.
Dr Gurpreet Kaur then spoke about antidepressants and the medical side of healing mental illness. Not many people on the panel nor in the audience were willing to adopt this approach. Foluke Taylor says: "Speaking to someone should be option one."
She added that antidepressants, although can be helpful in the short term, could lead to addiction and unwanted side effects.
I Am Not (what is) Broken
Overall the event was extremely moving and informative. Sharing experiences and talking to those who can relate is very important.
There are increasingly more group therapy classes for certain communities if you feel you can't handle it alone.
You can watch the full event below: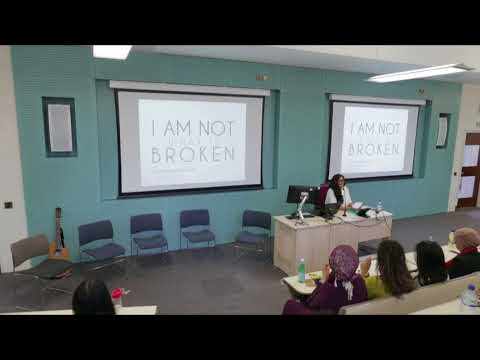 More information about the project, including videos and stories, can be found on the 'I Am Not (what is) Broken' website here.