"I believe it to be a very pro-Tamil film and it was not made to hurt anyone's sentiments."
Madras Cafe is expected to be one of the most tense, political thrillers films to come out of Bollywood. It is set against the backdrop of the Sri Lanka during the war and the assassination of a key Indian political leader.
The film is directed by Shoojit Sircar. Shantanu Moitra, who's known for 3 Idiots (2009) and Parineeta (2005), has composed the music.
John Abraham's character is Captain Vikram Singh, a Para Military Officer recruited by the R&AW's head Robin Dutt (RD), who is given the task to execute certain secret Intelligence operations in Jaffna and to run peaceful council elections.
However, the further he goes into his operations, he suddenly becomes the target himself and releases the faults and leaks within his own group.
When he realises he is dangerously involved, he becomes sinister and arranges a bigger plan – a conspiracy to remove an important Indian leader.
Vikram tasks himself to primarily figure out who is behind this conspiracy. With RD's full support, he attempts to uncover and stop this conspiracy from happening.
It is along the way he teams up Vikram's an Indo-Western journalist named Jaya (played by Nargis Fakhri). Together they set out to find the truth among the corruption and web of lies and deceit.
The film has already stirred up some controversy prior to its release; Tamil groups and politicians in the southern state of Tamil Nadu denounced it as 'anti-Tamil' and guaranteed to stop its release in the state.
A special screening, arranged for some of the protesters before the official release date failed to pacify them. Many insist that it depicts the Tamil Tigers and Prabhakaran in a bad light:
"The aim of the movie is to portray Prabhakaran as a villain. We cannot accept the movie in any form," Seeman, leader of Tamil group Naam Tamizhar Katchi, said.
"The heart of the film is anti-Tamil," he added, urging cinema halls in the state not to screen the film. A petition has been filed in the Madras high court, which also seeks a ban.
The petitioner, lawyer B Stalin, claims that the film portrays Tamils as 'terrorists' and that its release may lead to law and order problems.
John Abraham says he is 'very disappointed and disturbed' by the allegations: "I believe it to be a very pro-Tamil film and it was not made to hurt anyone's sentiments.
"This story is thoroughly researched from authentic sources. It is surely inspired by true events but it doesn't mean it should be banned or face controversies," the actor expressed.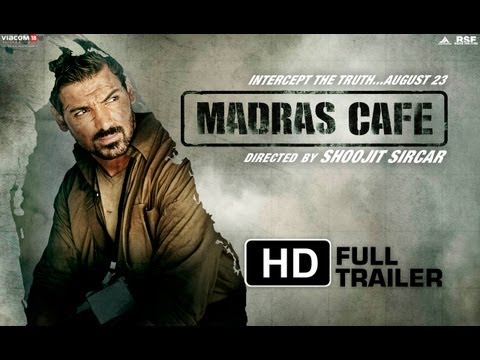 Even the UK has decided to err on the side of caution with the film's release: "Our policy is to show a wide range of films for different audiences. However, following customer feedback and working with the film distributors, we have decided to not show Madras Cafe."
Viacom 18 in a statement said: "We have made a realistic film without being frivolous and over-sensationalizing anything as we believe that the Indian audiences are now looking for credible and realistic cinema."
"We have told a story, it's our right of creative expression, we have worked hard to make this film. We only urge people to see the film without being biased and judge it on its merit and not politicize a creative product."
Director Sircar says the film 'does not take any sides' and its core focus is on the civil war. The film's lead actress Nargis Fakhri says the film is made in Bollywood, but has a 'very international appeal':
"All my previous films were of different genres and Madras Café is an entirely new one. I haven't touched such a topic before. I like to challenge my own abilities; therefore, I am not fearful of touching a new topic every time."
Speaking on her role as a journalist, she says: "Playing a war correspondent was not easy, it needed a lot of research. It's a very realistic role."
She admits she based her role on war correspondent Anita Pratap: "She is the true inspiration for my character in the movie. Learning about her made me more connected to my role. I believe I have done justice to her by putting in as much as I could."
There was also some uproar about the uncanny resemblance of some of the characters.
Sircar agrees that the rebel leader in the film does resemble Tamil Tiger rebel group leader Vellupillai Prabhakaran, while the actor playing the former prime minister looks like Rajiv Gandhi.
But he insitsts that 'such resemblances are coincidental'.
Eight tracks have been composed for the film; four have singers, while the rest are pure instrumental pieces. Moitra has given each song to only one voice, unlike most film songs which usually have multiple singers to one track.
'Sun Le Re' is sung by Papon, the song is slow and emotional where a man pleads to god to listen to what he has to say. The light strumming of the guitar brings out the feeling of loneliness and pain in the listeners.
The next song 'Ajnabi' introduces the calming voice of Zebunissa Bangash. A story is told through the romantic lyrics. Papon's voice in the next track 'Khud se' is a song that wows straight away. The piano music immediately brings out the emotions. It's a sad song and the variations in singer's voice are admiring.
All the songs are highly appealing. Even though there is no item number, the music is just as perfect as it can be and has its place, it will definitely not go unnoticed.
Taran Adarsh had nothing but immense praise for the film. He states: "Madras Cafe is one of the finest thrillers to come out of India. No two opinions on that!
"It's a film that you should watch because it gives you an insight into an exceptionally pertinent episode of history. If you are in the frame of mind to watch superior quality, sensible cinema, I would strongly recommend Madras Cafe to you. Try not to miss it!"
Komal Nahta concluded that: "On the whole, Madras Cafe is a class-appealing film which will do well in the high-end multiplexes of big cities mainly. Its performance in the single-screen cinemas and ordinary multiplexes, frequented by masses, will be below the mark. Given its cost, the film will see those associated with it in the red."
Now unlike the Bollywood films, which use the same formula, Shoojit offers a film, which is completely new in its genre. While he is known for experimenting with issues in his films, he still has yet to see if the world will accept Madras Cafe.