"The only thing left was to walk the ramp."
A standing ovation met musical legend Asha Bhonsle as she walked the ramp at Lakme Fashion Week. Renowned designer, Manish Malhotra was showcasing his new designs for the Summer-resort 2013 on the first day of Lakme. Asha ji who was an attendee of the show, was brought onto the stage to rapturous applause.
Malhotra is strongly regarded as Bollywood's favourite designer. His summer-resort 2013 theme for Lakme was inspired by 100 years of Indian cinema.
Asha ji sat in the audience during the show, along with Hema Malini and costume designer Bhanu Athaiya. She was then called on to the stage by Malhotra. The crowd was more than happy to show their love for the playback singer while she strutted her stuff in an off-white sari with gold detailing.
Asha ji was overjoyed at the experience: "Whatever I am today, it's only because of cinema. I am proud to be a part of this industry. I have done everything in my life, and the only thing left was to walk the ramp," she said.
"Today I am wearing Manish Malhotra's sari, and thanks for giving me this opportunity," Asha ji said.
Both models and Bollywood royalty dazzled the crowd, with the likes of Priyanka Chopra, Karan Johar, Kajol, Hema Malini, Dibaker Banerjee, Anurag Kashyap and Zoya Akhtar all showing off Malhotra's designs.
The designer, who traced the journey of Indian cinema from 1913, had friend Karan Johar open the show in a black embroidered kurta with a white pyjama. Johar and three other directors opted for black and white. Anurag donned a black a black bandhgala with a white pyjama; Zoya wore a monochrome suit, and Dikabar opted for a black silk bandhgala.
Malhotra's designs were inspired by the different eras of Bollywood. He incorporated chikankari and Kashmiri embroidery into his designs, giving them a glamorous and elegant edge. He first paid homage to black and white cinema that saw the birth of India's film industry in the 30's.
Following this, the audience were invited into a wide array of vibrant colours and hues. The 60's saw beautiful anarkalis and fitted salwars. The 70's were dominated by classic polka dots and silhouettes. The 80's sported the hippie generation with flower power. Disco bling also made an appearance as part of the late 80's with casual chic taking over the 90's.
The casual chic and elegance of the classic sari was something that Malhotra himself brought to Indian cinema, and seemed like a fitting end to the show.
Priyanka Chopra opted for a bright green sari with a shocking pink border. Fellow actor Varun Dhawan impressed with a white kurta outfit and a turquoise-blue collar jacket. Siddharth Malhotra wore a pink-collared jacket.
Priyanka also took the opportunity to pay homage to Malhotra himself: "This is the 100th birthday of the film industry and it indeed deserves a celebration. If Indian cinema is a cake then Manish Malhotra is like the cherry on it," she said.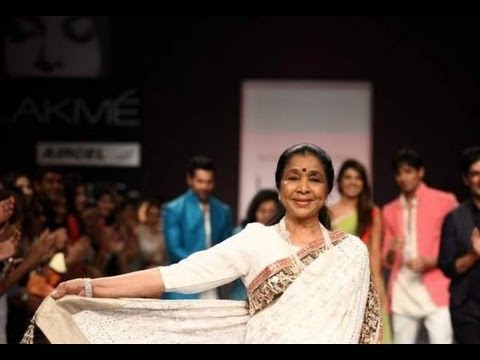 Asha ji also had much praise for Malhotra at the show:
"My dream has come true because of Malhotra jee. He's let me wear such a beautiful sari. I am very happy to be here. I hope that I always get to wear sari's like these."
Kajol and Karishma Kapoor were also snapped wearing a grey sari with black embroidered kameez, and a block-colour frock suit respectively.
Speaking about his Bollywood beginnings, Malhotra said: "The first film that I worked on was the Juhi Chawla-starrer Swarg (1990). It has been a 23-year-old whirlwind journey in Bollywood since then, and it seemed only fair that I thank the industry for all it has given me."
Malhotra has since been responsible for dressing up to 1,000 films for the Bollywood industry to date:
"I have grown up watching Indian cinema. I have loved cinema and cinema has loved me back. It has made me what I am today. When I got this opportunity to celebrate 100 years of cinema, I had to embrace this milestone and create a memorable collection reflecting my equal love for cinema and fashion," Manish said.