"My best friend was my mother's glamorous make-up bag."
With the rise of Instagram, we have also seen a rise in Desi male makeup artists and hair stylists, celebrating diversity and recognising that makeup is not just a women's line of work.
From defined contouring to sleek vintage hairdos, these beauty kings approach their clients with great creativity.
Throughout the hair and beauty industry, there has been a greater drive to not be a part of the norm, but rather, to stand out from the crowd.
Changing the beauty game, they are embracing techniques which are bigger and bolder. From their on-point eyeliner and outstanding backcombing hairstyles, these talented artists, are sure to keep our interests sparked well into the wedding season.
Taking pride in experimenting with some stunning signature looks, a handful of Desi male makeup artists and hair stylists are making their mark across Instagram.
Here are 5 rising kings of the beauty scene you absolutely need to follow on social media!
Naeem Khan
Naeem Khan is amongst the most recognised Desi male makeup artists and hair stylists in the UK. With over 121k followers, he has gained international fame due to his artful skills.
It's easy to mistake Naeem's Instagram for a beauty page in a magazine. After all, many of the shots come straight from his imaginative work.
His celebrity clients include popular names like Faryal Makhdoom and Pakistani actresses like Deedar. Describing his inspiration, he says: "From my earliest memories, my best friend was my mother's glamorous make-up bag. It was like a bag of jewels, full of items that were colourful and mysterious."
He further adds:
"I was lucky enough to cross paths with up and coming Lollywood actresses and existing icons of the Pakistani Silver Screen such as Reema Khan, Nargis, Resham and Deedar. These ladies would inspire, advise and guide me to achieve my dream."
"I realised then I was to become full-time make-up artist and chase the dreams that had continually been a part of my life."
Branding his colourful and artistic business as NK.Academy, Naeem's skills are in high demand, with fully booked bridal media makeup and hair courses and seminars across the UK and India. And now, he has announced that they will take place in UAE this summer!
Check out Naeem Khan's Instagram and follow his fabulous hair and makeup adventures!
Aamir Naveed
With his signature vintage waves and retro curly creations, the celebrated hair stylist Aamir Naveed has over 82.8k followers.
A glance at his Instagram looks at the styles he has created for real brides, as well as, for models and actresses. Aamir has also participated in creative collaboration shoots internationally.
Most notably, he has collaborated in a shoot for popular Indian brand store Neeru's Emporium, which was styled by Asiana Magazine. In which, he beautifully styled one of the gorgeous Bollywood divas, Karishma Kapoor.
See Behind the Scenes with Karishma Kapoor here: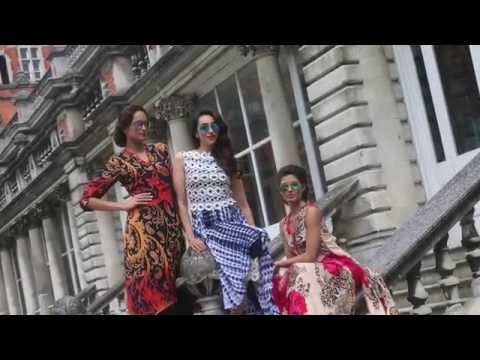 Aamir has worked his magic on several other stars including Pakistani actresses, Ainy Jaffri Rahman and Humaima Malick, model Sabeeka Imam, and Faryal Makhdoom.
The exceptional hair stylist has also created stunning looks for the legendary Shabana Azmi. He says:
"Growing up watching legends like her on tv and in movies, whom I never expected to meet, I got to style the hair for. It's been a great experience!"
Now, with his hair styling school, Aamir offers students his latest creations, skills and techniques.
He posts impressive and artistic hairstyles on Instagram, which could just as easily decorate a gallery wall!
Dil Matharu
https://www.instagram.com/p/BFRQy-TyJYq/
Another one of the most in demand Desi male makeup artists and hair stylists, Dil Matharu.
With striking brows, skin and cheekbones, the beauty influencer is a perfectionist.
This makeup guru can do amazing eye makeup and fill in brows better than the ladies!
His work is all about the eyeshadow brush and the dramatic eyes!
Check out Dil Matharu's Signature Evening Makeup Tutorial here: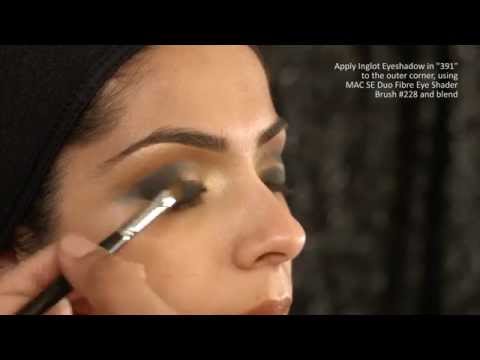 Dil Matharu has a feed full of stunning beauty looks, with real-looking traditional brides.
So if the beauty portion of your Insta feed is lacking, Dil Matharu is one of the Desi male makeup artists and hair stylists you need to start following! See here.
Jawaad Ashraf
Jawaad Ashraf is another one of the much-celebrated Desi male makeup artists & hair stylists on Instagram.
Ever wonder who some of the people are behind those striking hair and makeup looks on the front cover of the Asiana bridal and wedding magazines? Well, Jawaad is constantly in demand, to work with models, photographers, designers and magazine shoots.
He has been featured across Pakistani and Indian television networks, including ARY and Zee TV. In addition, he has participated at major beauty pageant events like Miss Asia.
With a great experience of the magical world of celebrity styling, Jawaad has worked with Bollywood beauties, Kajol and Kareena Kapoor. As well as, British Asian beauties like Sophiya Haque.
Maybe that's why his makeup always tends to bring out the best, most radiant aspects of his clients! Check out his work here.
Jatinder Grewal
A fashionista himself, Jatinder Grewal captures striking looks without going over-the-top.
His Insta feed serves as a pretty catalogue of traditional Punjabi brides.
Are you a bride-to-be and want to keep it all traditional? Then Jatinder is a source of ample inspiration! See his Instagram here. 
Delivering his artistry with great attention to detail, Jatinder completes his job by giving gifts to his clients and of course, taking a selfie!
One fan of Grewal on YouTube, Ruby Khehra comments:
"Every day I watch your snapchat, IG video/photo, and youtube videos, I have no words to explain your amazing work. Love how Mr.Grewal takes his time and positive energy to make a bride's day the best. I can watch your video all day every day. And your giveaways."
See a Glimpse of Jatinder Grewal's Journey here:
These are the latest beauty inspirations your Instagram needs!
But, what makes them special isn't only their number of followers.
Rather, these 5 Desi male makeup artists and hair stylists have displayed pure talent, achieving artistic mastery.It is their refreshing approaches and professionalism that makes them stand out from the crowd.