"It took several passes from scratch before we settled on the design we have now."
Rockstar have officially revealed the long awaited Heist mode for GTA V (Grand Theft Auto 5).
After being a key focus of the game's marketing for its initial September 2013 release date, fans have been left waiting for Rockstar to patch in the promised content.
Although no concrete date has been given, Rockstar have released a trailer as well as an early 2015 release window, so fans still have a little bit longer to wait.
But that's okay… No. It really is.
2014 has been a huge year for gaming, and an even bigger year for disappointments. This year, we've seen huge triple A titles shipping half-baked and broken (we're looking at you, Assassin's Creed) games – a standard the paying consumer does not deserve.
GTA V Online's shaky 2013 release aside, Rockstar shipped a solid game that received positive scores across the board, including 10s from IGN, Edge Magazine and The Guardian.
The team should be, and were (quite heavily actually) commended for this. But they should arguably commended more, for their willingness to admit when something isn't quite ready. The Rockstar team have high standards, and sullying those was never an option.
In a conversation with IGN, GTA Online producer and lead mission designer Imran Sarwar, said it's taken so long because it simply wasn't ready:
"We started working on the concept: a series of multi-tiered missions featuring diverse prep work, a range of different types of gameplay and a big finale, where team coordination and playing your own distinct role could make the difference between success or failure. We also wanted each one to have a unique thread that brought you back in touch with some of the characters from the story."
If that seems like a monumental ask, it's largely because it was.
Imran adds: "As it turns out, creating missions of that complexity for multiple players at the same time was much more difficult than we anticipated and every time we thought we were close, something would send us back to square one."
And when he said square one, he really… really meant it.
"It took several passes from scratch before we settled on the design we have now. Prep and set-up missions in Story Mode could be relatively low-key affairs, but with four players and an emphasis on replayability we felt like we needed to make these as diverse and as fun as possible," Imran continues.
"This required a totally new way of testing as we formed into teams and played and replayed a huge range of scenarios in order to make sure the balance and timing of each section felt right."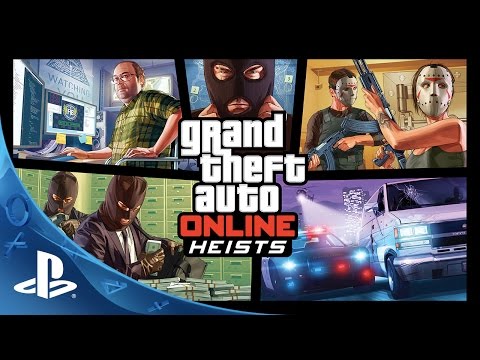 Of course, the pressures of meeting the release window for GTA V's next-gen launch won't have helped either:
"Even as we were working to solve this, the entire team was also throwing everything we could into creating the PS4, Xbox One, and PC versions of Grand Theft Auto V – adding First Person Mode, building the new replay editor for PC – as well as constantly working to improve the GTA Online experience.
"All of these projects are linked and require the attention of our core team at all times, so despite our best efforts, we simply wound up needing more time to make sure every one of these projects was as good as it could possibly be.
"We never want to have to move a date but if something is delayed, it's because it's not at the level we expect of ourselves. And while we're not there yet, we're getting close and Heists will be ready early in 2015."
And what we'll actually see in 2015, sounds worth the wait.
Heists require four players including a heist leader. Interestingly, the heist leader will need to own a high level apartment to provide a room to plan the heist in, as well as front all the set up costs.
It's not all doom and gloom for the heist leader though, as they'll get to divvy up the earnings when the final job is complete.
In true GTA fashion, you'll be able to screw over your buddies to follow your twisted, psychopathic American Dream.
Rockstar have also achieved their initial dream of weaving the new content into main story plot, as they have promised certain characters will make an appearance.
And to top it all off, the update that will arrive via DLC, is completely free. Considering it all mounts up to an impressive 20 hours worth of content, more than a lot of games ship with out of the box, we now have something else to commend Rockstar for.
With what we now know, and what we've come to expect of one of the greatest studio's of this generation, it's hard to justify any lasting animosity towards Rockstar for the wait.
Perhaps if Assassin's Creed Unity, DriveClub, Halo and the other half working (even half done) games that have released in 2014 followed suit, they might have been better received.
Here's hoping Rockstar set yet another standard of game development – it's better to wait than to rush.