"I think the kids of today will feel enthralled by Dear Zindagi. It's life with all its ups and downs"
After giving two stellar performances in the past year, talented actress Alia Bhatt is set to end 2016 on a high note with her new drama, Dear Zindagi.
Known as one of the best actors of the current generation, Alia is set to join hands this time with the superstar Shahrukh Khan and English Vinglish director Gauri Shinde.
Listed as one of the most awaited films of 2016, audiences have been eagerly waiting for this one.
Dear Zindagi follows the story of twenty-something cinematographer Kaira (played by Alia Bhatt).
Quirky, moody and beautiful, Kaira seems to have it all when it comes to her career. Emotionally stunted she clearly has commitment issues, she can't decide what (or who) her heart wants.
From heartbreak to family problems, Kaira seems to be dealing with inner demons that she just can't get rid off.
However, during her trip to Goa, Kaira meets Jehangir Khan (played by Shahrukh Khan) a therapist who gives her a whole different perspective on life.
Will Kaira beat her inner demons? Will she ever be able to decide what her heart wants? Watch Dear Zindagi to get all the answers.
Ever since the mini teasers of the film have been released there has been a sense of curiosity on what the film is actually about, giving a philosophical vibe to it.
In a press interview, Alia Bhatt explained: "Dear Zindagi is about life. On any given day we go through various emotions – we laugh, cry, feel sad or happy.
"And that's what the film is about: life, and coping with it – as mothers, fathers, friends, daughters, sons."
Shahrukh Khan went on to add a bit of his insight when he said: "I think the kids of today will feel enthralled by Dear Zindagi. It's life with all its ups and downs."
Alia also added why she was excited to work with director Gauri: "What I love about Gauri is that she can weave a whole film around a single thought.
"Also I just love her frankness. Whatever she feels, she tells you to your face. She knows what she wants from you. Woh jo hai, woh hai [she is what she is]."
With Alia being younger than Shahrukh's 25-year-old film career it would've been daunting for anyone to face the camera with such a huge superstar.
As expected, the media have been asking many questions about Alia and her time on set with Shahrukh. She admitted:
"I am a huge fan of SRK and it was surreal when I heard I would be working with him. Gauri had to initially keep telling me to calm down. It took a while— I kept pinching myself to see if it was real."
As Dear Zindagi represents the essence of life, it was expected that the music of the film would cultivate each and every emotion we all feel throughout our lives.
With the national award winning music director Amit Trivedi, the Dear Zindagi album is a mixture of different emotions that capture you instantly ever since the title track.
Presenting the feeling of heartbreak in 'Go To Hell Dil' and the feeling absolute bliss in 'Love You Zindagi'. The album has a song for every emotion and every moment you have ever felt in your life. Being a perfect support system for the film, the Dear Zindagi album is a definite hit.
The film has released to wide acclaim (read our review of Dear Zindagi here). Bollywood has nothing but praise for the film after the private screening.
Siddharth Malhotra tweeted: "#DearZindagi is a very touching special film with crucial life lessons that u should not miss, thank u @gauris for this experience."
Watch the song 'Love You Zindagi' from the film here: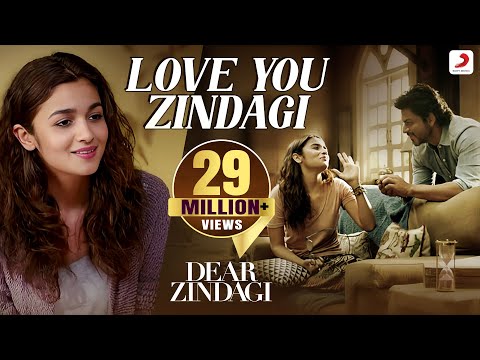 On the other hand, critics seem to be iffy on the plot but overall were impressed by the acting. Critic Rajeev Masand said:
"Despite that, Alia soars. Her work here is the film's one true treasure. The piece de resistance is a breakdown scene during a therapy session with Jehangir that she nails with such precision, you're practically reduced to a puddle.
"Another admirable thing about the film is its attempt to root out the stigma attached to mental health and the shame associated with therapy."
However, despite India's demonetisation issue and with Rock On 2 flopping at the box office, Dear Zindagi is expected to do well at the box office, as trade analysts say that the film has opened to 40-45 percent occupancy.
The opening day saw a fantastic Box Office intake of Rs 8.75 crore on day one, and Rs 11.25 crore on day two.
So, would you like to join meet Jehangir Khan on an uplifting therapy session? Dear Zindagi released on the 25th of November 2016.