"She almost died of bleeding."
Kari Rambabu, 40, of the Kurnool district in Andra Pradesh was paraded naked through the streets of Eluru, West Godavari on Tuesday, August 21, 2018.
Locals captured the video of Rambabu walking along a busy road, whilst being beaten for raping and impregnating a minor, who was 16 at the time, while she was his student.
He began grooming her for over two years while she was a student in his Class 10.
Rambabu promised her good grades throughout the ordeal.
He also used to postpone exams when she did not prepare well.
The video shows locals escorting him to the police station for his crime.
It is heard that the teacher's wife had left him eight months ago due to family issues. Since then, he has been living alone.
This was when Rambabu began a physical relationship with the girl.
He began inviting the girl to his house and said that it was for correcting answer scripts of Class 10 students.
Rambabu continued his relationship with the girl for six months and continued it when she moved to college.
He had promised to marry the girl, which he fulfilled on Sunday, August 19, 2018, at the Dwaraka Temple.
When the girl became pregnant, Rambabu gave her abortion pills, which led to serious complications.
The girl's parents found out about the pregnancy when the girl complained of severe stomach ache and profuse bleeding.
Her parents took her to the hospital where the doctor declared that she was five months pregnant.
The girl's parents made her call him and invited him to their home.
Rambabu confessed to the crime and asked her parents to keep the girl at home and offered to pay them Rs. 4,000 (£444) monthly to keep it a secret.
Watch Video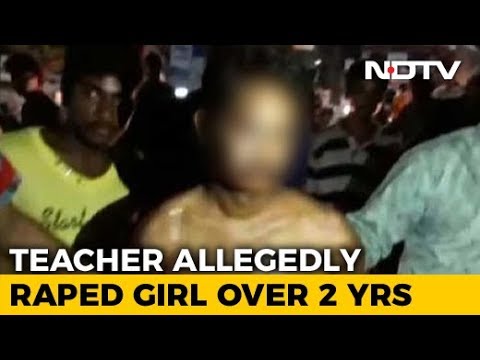 The girl's parents become angered by this and began beating him.
When locals knew of Rambabu's confession, they joined in and Rambabu was paraded naked on the National Highway.
On the video, a man is heard saying: "He is a teacher and lured a Class 10 student with the promise of marks and raped her."
"He made her pregnant."
"She almost died of bleeding. We shifted her to hospital."
"Once we found out, we could not spare him."
Rambabu was paraded naked to the police station where he was given a shirt and a towel to cover himself up.
He was questioned by police.
NDTV quoted Rambabu admitting to the crime: "They called me to talk [about the relationship] and then 15 people beat me up mercilessly."
Officers registered the case and Rambabu was formally arrested.
Eluru DSP K. Eswara Rao said: "Based on preliminary inquiry, the school teacher confessed to the crime and we will arrest him as soon as gets discharged from the hospital."