"We received a very warm welcome from the staff"
The Park Grand Lancaster Gate offers a mouth-watering Indian afternoon tea in London.
The tea and light meal in a traditional Indian style is the perfect treat for a relaxing afternoon.
From a range of Indian teas to savouries, sweets and snacks, the Chilworth Indian afternoon tea at the hotel has the best of everything.
Anna Russell, The Duchess of Bedford who would find herself hungry between breakfast and dinner first introduced afternoon tea in 1840.
She used to invite friends to an enjoyable tea and 'light refreshment' at Woburn Abbey. The Duchess continued this tradition when returning to the capital.
Highlighting the importance of the afternoon tea, Henry James writes in 'The Portrait of a Lady (1917):
"There are few hours in life more agreeable than the hour dedicated to the ceremony known as afternoon tea."
Upon arrival at Park Grand London Lancaster Gate, guests will enter a world of classic and traditional colours.
Guests receive a warm welcome by hotel staff where they are escorted to the restaurant to experience the traditional Indian afternoon tea.
A polite and professional staff member assigned for each table will make you feel comfortable. They will hand out wet towels, and serve fresh water in the glasses.
To begin with, there are a few beverages to choose from. The 'Indian Masala Chai' has a very good taste, with the right amount of spices and milk.
Besides the masala chai, there is a selection of teas, including Assam, Darjeeling and green.
After enjoying the tea, all the food is served on a beautiful steel tea stand assorted by Indian sweet and savouries.
The 'Bombay Aloo Bonda Pav' made up of a spicy mash potato ball with batter comes in a pav (soft bun like bread).
There are several snacks, including the green and sweet chutney sandwich. There are two chicken tikka sandwich varieties, which include popular ingredients like peppers and green chutney.
A mixture of flavoursome chutneys, potatoes, chickpeas and crispy sev make up a very tasty papdi chaat.
The pastry based samosa filled with vegetables and spices will tickle those taste buds.
Made from individual vegetables, and then batter fried, the 'Assorted Pakoda' is delicious. The 'Paneer Kathi Roll' using tortilla has a very pleasant tangy taste to it.
Other food served includes the 'Spiced Sultana Scones,' which come with strawberry jam and clotted cream, as well as a sweet and savoury shortbread biscuit called 'Nan Khatai.'
To digest the food, there are some lovely desserts. Firstly you can try out the mango flavoured rice pudding.
There are also small jars with three layers of Indian sweets (mithai), which comprise of several flavours including rose.
The best aspect of the food is that it caters to both veg and non-veg eating people.
Throughout the fine dining experience, the hotel staff will keep topping up the tea as and when required.
The afternoon tea experience costs £35 for two people, which is very good value for money.
The portions are good and light, leaving space for a proper evening meal in the night if you wish to do so.
A second to none service, all the staff are extremely professional, well-spoken and attentive. DSC Chouhan gave the Indian Afternoon tea at Park Grand a five-star review writing:
"We booked an Indian afternoon tea at the Park Grand as this was recommended by a friend, and we were not disappointed.
"We received a very warm welcome from the staff and were provided with a hot towel prior to our afternoon tea which was an unexpected and thoughtful gesture.
"The selection of Indian savoury snacks and sandwiches were all very delicious, particularly the paneer kathi roll.
"We would recommend this for the first-rate service, delicious selection of Indian inspired food and excellent value for money."
Watch a video of the Indian inspired afternoon tea here: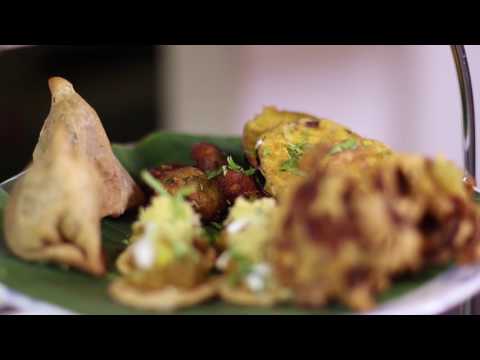 For foodies who want to try an alternative to the traditional British afternoon tea, the Indian at Park Grand is a good choice.
Furthermore, if you want to book the Chilworth Indian afternoon tea, please check the hotel website here.