For once, we have a rare occasion to focus only on the British Asian perspective.
Submission, presented by the phenomenal Liver and Lung Productions, explores the complex issues LGBT+ British Asians experience in their lives.
The company, founded by Shafeeq Shajahan and Hannah Shields, use their Malaysian and English backgrounds to produce outstanding international work.
Speaking directly to the younger generation's concerns, they push society's boundaries.
Submission hails as no exception from this.
Sections of the play originally formed a spoken word by the multitalented Shafeeq Shajahan. Now he has developed it into an excellent addition to the company's repertoire since their establishment in 2014.
It examines the experience of a young British Asian man named Sameer (Shiv Rabheru) as he tries to accept the various parts of his identity.
The play focuses on Sameer's struggle with his desire for other men against his religious beliefs. On his 23rd birthday, he unexpectedly hosts an after-party with a friend. One which sparks a chain of events leading him to question the reality for many LGBT+ people of colour.
Along the way, Submission teases out equally intriguing topics. Offering a complex look of this contemporary inner struggle.
As Shajahan promises, he doesn't create theatre for the audience to feel comfortable. This is quickly evident in Submission.
Conflict between Religion and Sexuality
We are introduced to the temporal weight of Sameer's Islamic roots through a poetic monologue on his prayer mat. Addressing his desires, this first glimpse into his struggle feels intimate in the small set, devoid of any object. An intimacy that feels almost intrusive.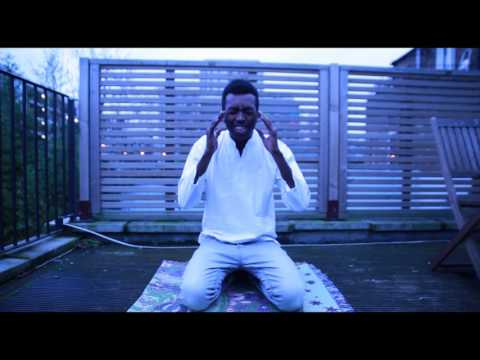 As director, Shajahan spares us no ease as we watch Sameer retreat inside himself while invoking a higher figure. Instead, excellent choreography transitions smoothly into different settings.
The audience scrambles to figure out where we have travelled in space and time. A feature that adds to shocking moments of the play as we rush to understand what we are watching.
Then, in contrast to Sameer's isolated struggles, we witness his involvement in the LGBT+ community. This occurs primarily through his relationship with the confident and masculine Daniel (Andrew Hollingworth).
With this relationship, key issues are raised in the LGBT+ community. Especially its treatment of people of colour. In fact, Submission succeeds in exploring the complexity of LGBT+ spaces as a British Asian.
In the script, Britain's colonial oppression and the physical differences of the couple hold equal weight to the modern fetishisation of brown bodies.
However, transitions continue here with a flash of bright light occurring in conversations between Daniel and Sameer. These pull away from real life and delve into Sameer's darker subconscious, accompanied by a thudding heartbeat.
Hollingworth deftly signals a shift from Daniel's actual character to Sameer's perception of what his underlying opinions are. Often aggressive and explicit, Sameer's Daniel doesn't mince words. But it appears that this is more about Sameer's own insecurities.
While Daniel is an interesting character, much of his complexity comes from these moments. He deliberately contrasts with his tighter, white shirt to Sameer' loose, black one.
The play could have arguably fleshed out the character of Daniel. But for once, we have a rare occasion to focus only on the British Asian perspective.
Nevertheless, he proves effective in other ways. Showing the ignorant comments people of colour regularly encounter in the banal locations. For instance, an interaction between the couple takes place at the gym. This calls upon the obsession with looks in the LGBT+ community, obvious on apps like Grindr.
Power of Sound and Language
The play's origins as a spoken word are obvious. Its monologues may isolate certain audience members. Their flowery metaphor and imagery of snakes feel worlds away from the everyday London dialogue.
However, Submission's use of background music and prayer sounds reinforce its focus on sound and sight. We consider everything from good looks to how we listen, interpreting the words and looks of others.
It may also highlight our own relationship with language and current ideas of the 'East'. Western associations of the opposite and its language were once seen as exotic or linked with mysticism.
Now, the West assumes these with that of 'the terrorist' or 'invading immigrant'. With this in mind, it's interesting to note that Sameer's version of Daniel often anglicises his name to 'Sammy'.
With the intense focus on Sameer's perspective, the use of monologues also feels appropriate. Indeed it does feel that he avoids his problems in obsessing over them. The non-linear narrative adds to this, and the possibility that he is in a vicious cycle.
With this, Submission does well not to force a resolution or contrived happy ending. Nevertheless, the development of Sameer and Daniel's relationship could provide a greater balance in the more shocking scenes and comments.
Furthermore, the play lacks the sense of London that it aims to achieve. This might be owing to Liver and Lung Productions' international origins with Shajahan's Indian-Malaysian background. Regardless, it would strengthen the play's critique of the LGBT+ scene.
Despite a few missteps, Submission shows great promise and is a fascinatingly multilayered play.
As shown by its shortlisting for the Amnesty International Freedom of Expression Award 2017, it's a story that raises awareness. Not just in the struggles amongst LGBT+ British Asians, but how the community treats people of colour.